Our environmental impact
We aim to maximise the positive environmental impact of our business. While our greatest impact will be from our lending - supporting and promoting building practices that respect the environment and sustainable, low impact communities, we're also working to reduce the direct environmental impact of our operations.
Every year we conduct an environmental audit and review our environmental policy. Our team regularly undergoes environmental training and we seek to reduce energy consumption, water usage and waste generation in our day-to-day running. All our electricity is sourced from renewables and we have offset our carbon emissions since we began in 1981.
• Our offices
Our eco-build offices were designed to have an airtight structure, high levels of insulation and low energy requirements. Photovoltaic panels generate electricity from the sun, windows are double glazed, filled with argon to improve heat retention in winter, and have a reflective film applied to prevent overheating in summer. A heat exchanger and high-efficiency condensing boiler is also used to assist our renewable technologies in maintain a comfortable temperature.
Wherever possible, materials used in the building are from renewable sources, recycled or low toxicity. Our sedum nature roof provides a habitat for birds and insects, and a rain water harvesting system supplies the water for our toilets, water the roof and the gardens.
• Our gardens
The gardens around our offices are designed to be edible and productive whilst being low maintenance, ecological and attractive. Crops include 'superfood' fruits, nuts, herbs and mushrooms. The gardens also include a woodland habitat and a wildflower meadow. Raised beds provide space for Ecology's staff to grow their own vegetables. Part of the gardens are also open for the local community to enjoy. You can find out more about the garden design and the plants in our garden here.
• Our carbon footprint
In order to manage and reduce our carbon emissions, we want to make the most accurate assessment possible of our carbon footprint. So, for several years, we've been working with Small World Consulting, a team based at Lancaster University and led by footprinting expert Mike Berners-Lee, to develop our approach to measuring our emissions.
Our carbon footprint figure includes the emissions generated through our 'supply chain' - the products and services we use as part of our day-to-day work - no matter where those emissions are generated. Our greenhouse gas emissions for 2018 were 284 tonnes CO2e (equivalent carbon dioxide), or 224.8 tonnes CO2e excluding staff commuting. This equates to 1.6 grams of CO2 per £ of total assets (carbon intensity).
The results from the last two years show a small increase in absolute emissions.  However, the carbon intensity of our operations has stayed the same based on grams of CO2 per £ of total assets.
| | 2018 | 2017* |
| --- | --- | --- |
| Total CO2e (tonnes) | 284 | 276.5 |
| Grams of CO2 per £ of total assets (carbon intensity) | 1.6 | 1.6 |
*In 2017 we recalculated our carbon footprint reflecting that Ecotricity, uses only renewable sources for our electricity supply.
The growth in emissions has been largely driven by:
• An increase in staff business travel and commuting as we expand our team to help us grow our member base and sustainable lending. Staff travel is a challenge in the semi-rural area in which our office is based, with poor public transport infrastructure.
• An increase in the services we purchase, especially professional services such as accountancy, to help us respond to increased regulatory requirements and ensure our systems and processes are fit for the future.
Cutting our footprint
As well as offsetting our carbon emissions, we've taken steps to reduce our footprint as much as possible, including:
• The installation of 6 electric vehicle chargers in our car park for staff and member use
• The purchasing of plug-in hybrid company vehicles by the Society charged using solar energy generated on site or by our renewable energy supplier
• Supporting staff to use public transport, car share and providing a cycle to work scheme
• The conversion of existing lighting to efficient LED technology and the installation of light-sensitive motion detectors and timers to avoid lights being left on
• The transfer of our recycled waste collection to an alternative provider who will recycle more of our waste, which reduces the amount of our waste going to landfill
• Obtaining electricity and gas from our vegan-certified, renewable energy suppliers.  We have verified that our energy supplier only generates their own energy and does not trade its Renewable Energy Guarantee of Origin (REGO).  In addition, they have a policy of not using gas obtained through fracking and is actively working to develop biogas mills which supply carbon-neutral gas.
We've already achieved many of the 'quick-wins' to reduce our carbon emissions but we continue to work hard at identifying more actions which will help reduce our footprint further. These will include:
• Continuing to work with our suppliers to ensure we are choosing the most sustainable options when purchasing goods and services.
• Reducing the number of paper-based communications with our members and encouraging take-up of online communications, which will help us reduce our use of paper, save time and lower costs!
And, of course, the greatest positive impact will be to grow our lending to help save carbon across the UK's housing stock!
Fair Tax
• In 2016 Ecology was the first building society in the UK to be awarded the Fair Tax Mark, the world's first independent accreditation scheme to address the issue of responsible tax. The scheme demonstrates our genuine commitment to be open and transparent about the Society's tax affairs and pay the right amount of corporate tax at the right time and in the right place.
Fair Pay
Ecology has a long standing commitment to fair pay:
• Ecology became an accredited Living Wage Employer in 2015, demonstrating our continued commitment to fair pay for our colleagues.  The real Living Wage is independently calculated to ensure that employees are paid at a level that reflects the cost of living.  All contractors working on our premises are also paid at least the Living Wage.
• All employees (including Executive Directors) are paid in relation to their expertise, overall contribution and the general market place. Ecology has a policy that no basic salary will exceed a maximum of eight times the lowest full grade available.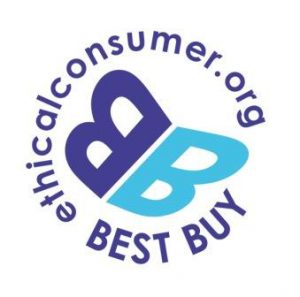 Ecology Building Society was rated as an ethical Best Buy for our mortgages, ISAs and savings accounts by Ethical Consumer magazine in its product guide rankings (May/June 2018 issue).

Your eligible deposits with Ecology Building Society are protected up to a total of £75,000 by the Financial Services Compensation Scheme, the UK's deposit guarantee scheme. Any deposits you hold above the limit are unlikely to be covered. Please click here for further information or visit www.fscs.org.uk | FSCS Information Sheet